Member Spotlight
Spotlighting members from across NIRI SF reflects the dynamic mix of our membership and profiles of active members, seasoned professionals and those new to the field. All participants in Member Spotlight are recommended for inclusion by other NIRI SF members.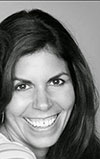 Anne Leschin
DocuSign
VP of Investor Relations
---
How long have you been a NIRI SF member?
More than five years now, including the time when I ran my own IR firm StreetSmart and during my tenure as head of IR for DocuSign.
How has NIRI supported you professionally or personally, especially in the backdrop of COVID?
NIRI serves as a sounding board to bounce ideas off kindred spirits in IR and also as a platform for networking.
What do you like best about IR? What's the biggest surprise for your transition from sell side to IR?
What I like best about IR is the role's multi-disciplinarity and being at the forefront of the engagement with one of the most important constituencies. I also enjoy the versatility of skills that the IR role requires, including an in-depth understanding of the investor mindset and priorities in order to be able to distill large amounts of data and information into crisp and strategic narratives that matter to the investors. When transitioning into IR from the sell side, I may have underestimated how much IR entails, including a depth of insights on the inner-workings and the businesses of the company and building the bridge between the company and the investment community.
What's your favorite moment or highlight of your IR career so far?
I don't know if it was a highlight as I was so exhausted from the roadshow et al, but…standing in Times Square on a rainy day in April right after DocuSign had officially gone public and started trading. As I stood there, looking at a 20-foot-tall picture of myself and 4 other senior women at DocuSign on the big screen, all I thought of was two things…i) I wish I'd had time to get my hair done, and ii) how proud I was at what we'd accomplished and how proud my parents would be.
What's your favorite thing to do when not working?
I'm an athlete by nature. I grew up swimming competitively all the way through high school and Division 1 college. When I graduated, I wanted to do everything else that I hadn't had the chance to do all those years! I started biking, and did triathlons for several years, became an avid skier – including heli-skiing. Outside of that, my alter ego is an interior designer – my hobby since I was 12! And I've always supported local artists.
What is your most frequently visited website or your favorite tweet?
My favorite website for work – Bloomberg. For fun – just about any/all design sites out there. There are so many tweets, especially from the pandemic perspective. I have to pick two: "I know why the caged bird sings." And "Having a dog is just being the grand marshal of a very small parade into the kitchen like 800 times a day."