Title:
IR Best Practices in a Tough Economy
Date:
Thursday, March 2, 2023
Location:
Joele Frank, Wilkinson Brimmer Katcher Office - One California Street Suite 2275, San Francisco
Time:

11:30am – 12:00pm PT: Networking and Registration
12pm to 1pm PT: Discussion and Q&A with lunch

Cost:
Free to members. $10 for non-members.
Description:
Join NIRI SF for an in-person lunch and learn discussion among IR practitioners to share best practices for navigating communications challenges and shaping your IR strategy in a turbulent market. Among other topics, we will discuss:

Developing and delivering difficult messages
Setting guidance in an uncertain economic landscape
Considerations for pre-announcements
Helping management maintain credibility in an evolving environment
Preparing for potential activist activity

This is also an opportunity for members to raise questions and issues they are encountering for group discussion.
Registration:
RSVP here
Thank you to Joele Frank for sponsoring this event!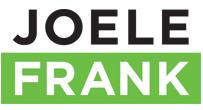 Back